KLiC BFSI – Banking Financial Services & Insurance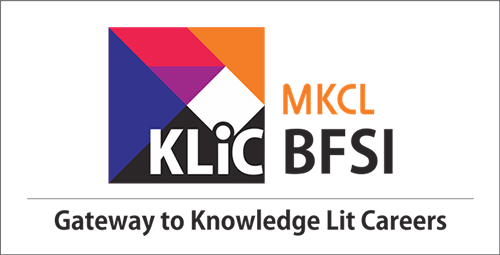 About Course
The Indian banking system consists of 12 public sector banks, 21 private sector banks, 46 foreign banks, 43 regional rural banks and numerous urban co-operatives as well as rural cooperative banks.
Technological development has accelerated the use of mobile and internet banking services all over the nation. The banking sector is focused to make the most of this, by improving the customer's user experience and be ahead of competition, also creating numerous job opportunities in the process.
Insurance industry is a crucial contributor towards India's financial industry. The insurance industry is expanding at a rapid pace. BFSI sectors continues to offer excellent entry level career opportunities for individuals.
Show More
What Will You Learn?
BFSI sector provides plenty opportunities for ambitious individuals with an intellectually stimulating and fast paced career path. There is a wide scope of job opportunities such as Insurance agent, Loan officer, Mutual Fund advisors, corporate bankers, consumer banking, Bank operations executive and many more.
As e-commerce and online banking technology continue to expand, tech-savvy individuals will always be in demand. With the use of e-commerce and online banking on the rise, the demand for individuals with technical skills will always be high.
Besides pursuing a career in BFSI Sector, being financial literate helps manage individual wealth very effectively.
Course Content
Introduction to Indian Financial system
Introduction to Banking system with Digital banking
General Principles of Investing
Banking products & investment opportunities in banking sector
Agricultural insurance, Life insurance, General insurance schemes for protection
Agricultural insurance, Life insurance, General insurance schemes for protection
Risk and risk assessment in stocks/shares
Mutual Funds and methods to invest
Systematic Investment Plans (SIP)
Financial analysis and credit rating of an individual
Investment in Post Office schemes, Government bonds
Microfinance
Career in banking sector
Career as a BFSI agent
Necessary communication, networking and selling skills for career in BFSI sector
Handling and resolving customer grievances