Turning Point – Personality Development Video Series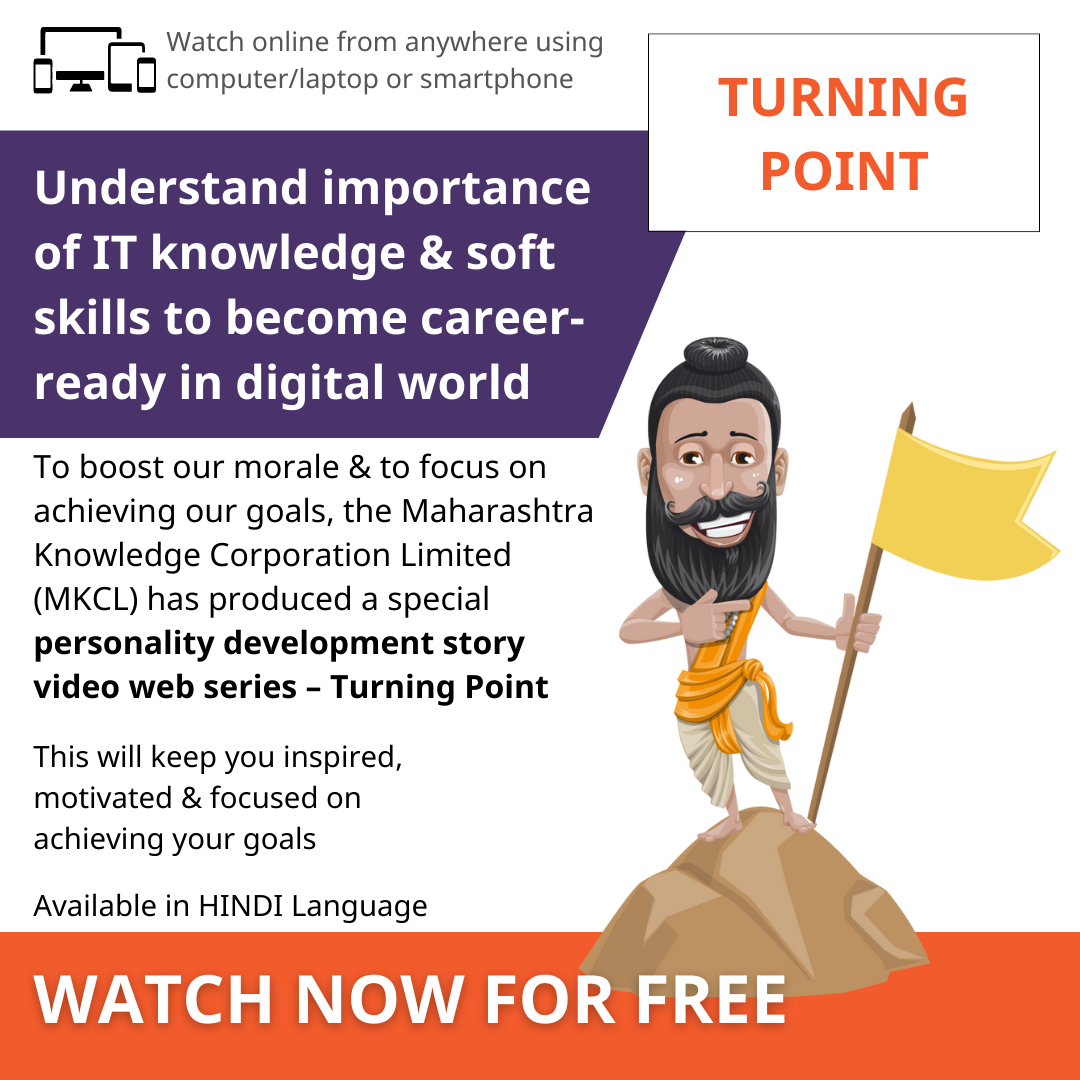 About Course
The youth now-a days need to understand the importance of IT Literacy and relevant soft skills to become job-ready in the competitive digital world.
To boost our morale & to focus on achieving our goals, the Maharashtra Knowledge Corporation Limited (MKCL) has produced a special personality development story video web series for students – Turning Point.
MKCL's special production, Turning Point, features a series of stories from young people struggling to become job-ready in a small town.
There is 'Ruhi' who is hard-pressed to keep track of big dreams in life.
'Yuvraj' who is losing his self-esteem, struggling to get a job, and then stubbornly learning English for the same.
On the contrary, there is 'Brahmadutt' who is self-confident of making his successful career.
And there is 'Anjuna' who takes a great leap to overcome her fears by embracing new skills at the expense of her craft!
Not only will the stories of these youngsters be inspirational to you, but along with each episode of this series, some of the most important soft skills and continuous new learning skills can be learned with entertainment.
We are sure this web series will become your Turning Point during and keep you inspired, motivated & focused on achieving your goals by learning MS-CIT & other career-oriented MKCL KLiC courses at Digital Guru Computer Training Institute.
---
Maharashtra's most popular IT Literacy course is the best option to head start the career. Know more about MS-CIT & Enroll Now
Learn Digital Marketing Fundamentals at just ₹199
Show More
What Will You Learn?
Understand the importance of IT & vocational soft skills for successful career or business.